There are a large number of hederows within the project area, many of which are species-rich and could even be relics of previously cleared woodland.
The project area has always been charaterised by small enclosed fields which could be related to the enclosures act but more likely asssociated with the intricate land management.
Unfortunately, some of these hedgerows have been grubbed-out to increase pasture and arable land, and the project actively encourages the replanting of hedges through our grants.
Hedgerows are of very high conservation value due to their connectivity between woodland and acting as corriors for wildlife, such as bats and small mammals.
Hedgerows often have the open grown form which means if they are not annually cut they can provide a very important nectar source for invertebrates as well as habitat for nesting birds.
Hedgerows are best managed through the traditional cultural practice of hedgelaying – a now almost forgotten skill and lost art and craft.
Further research is needed to ascertain the amount of hedgerow present within the project area and where losses have occured.
Hedgelaying
In the winter of 2022/2023 a 350 metre 8-year-old hedge on the edge of Dallington Forest was laid for the first time.
The work was carried out over the Christmas and New Year period resulting in a stock-proof boundary, improved habitats for birds, small mammals and invertebrates, and which will increase biodiversity in the surrounding area. The newly-laid hedge will also reinforce and enhance the quality and character of the High Weald landscape, which has a unique 'mosaic' field pattern, and it acts as a corridor between wildlife habitats.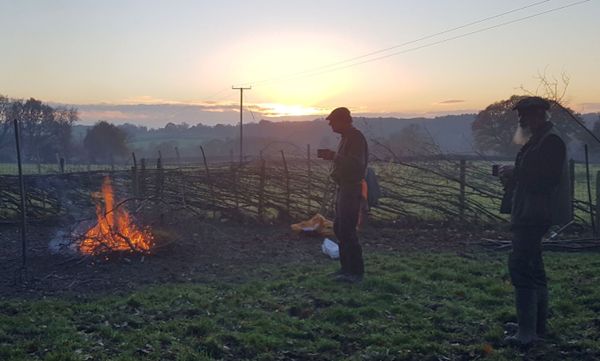 The project also created employment, using local experienced professional hedge-layers together with a local unskilled labourer who was able to learn 'on the job'. Materials for this 'South of England' style laid hedge, the stakes and binders, came from a hazel coppice just a kilometre away in Dallington Forest.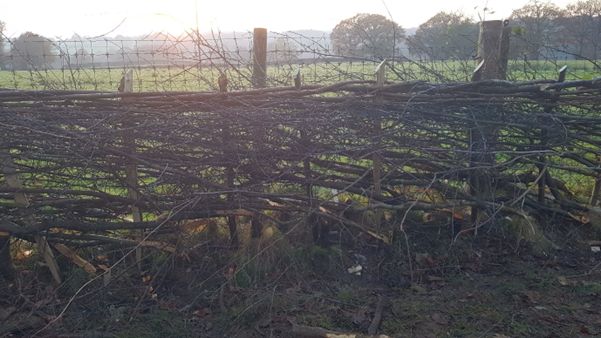 Future management of the hedge will entail triennial light trimming, increasing the height by about 10 cm each time, and re-laying in some 10-15 years.
The hedge can be seen from public rights of way that pass both ends, and the landowners welcome visits from people interested in the laying of hedges and the biodiversity and environmental benefits associated with the craft. Please contact Doug on 07711 090 925 or [email protected].
Sussex Lund supports small-scale, practical projects that improve the landscape of the High Weald AONB and the hamlets, villages and towns on its fringes. It also supports projects that help people to experience the landscape and build connections to it.
The annual grant scheme is funded by High Weald residents Lisbet Rausing and Peter Baldwin, and administered by the High Weald AONB Partnership. Please visit https://www.highweald.org/look-after/sussex-lund.html to learn more about funding opportunities.
Before: –
After: –